Books
->

Student Books

->

Abacus Books
School Based
Abacus Study Material plays a Key Role in ensuring the required results in every student of Abacus. Trainer requires material not only to train children in a structured way but also requires enough self-practice sums systematically aligned to add value for a student.
WE MAKE EXTRAORDINARY ABACUS STUDENT BOOKS FOR YOUR CHILD TO GET PROPER OPPORTUNITY TO GET THE BENEFITS OUT OF ABACUS LEARNING.
We understand that our school institutions require Abacus Kit to suite their needs of school schedule with bulk discounts.
Our customized solution for each of our school client is a very unique offering. We supply all Abacus Study Material for schools with their Logo's and address, wherever necessary.
We actually understand that what an educational institute like a school would require and we supply exactly what they actually require and would suite to their needs.
We are publishing Structured Abacus Books with weekly progression to offer true benefits to its students with Weekly Instruction Practice Sheets along with Daily 6 Days Practice Material for Abacus Class.
Each Level/Semester Abacus Book include 13 Week practice Material in a systematic & structured way for children to follow the right method of learning Abacus operations in any Abacus Class.
Our Abacus books are targeted to children of age 4 till 6 years under version Junior,6 till 12 years under version senior and 13 till 18 years under version super senior.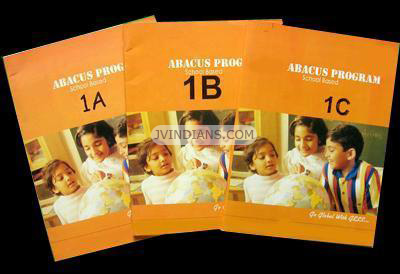 CODE: BK3