Books
->

Calligraphy

->

Calligraphy Single Pen and 7 Nib Set
Calligraphy Double pen and 7 Nib set
Calligraphy pens come in a huge array of sizes, shapes, weights and prices.
Calligraphy Training to Children is considered to be the most creative form of harmonious, skilful and expressive writing. These calligraphers have immense talent and hence can give language even to abstract beauty. They make use of the finest paper, ink and brush to offer calligraphy paintings that are perfection of elegance and finesse.
Drawing materials needed for calligraphy, such as pencils and ruler, are probably as close as your desk. You'll find all the calligraphy tools you need, including dip pens,Which produce sharp, clean lines and allow you to easily change nib sizes, at your local arts and crafts store. Investing in high-quality materials will make your learning experience more enjoyable.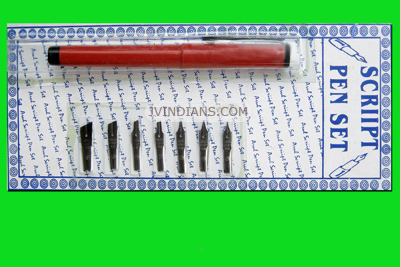 CODE: CPN4
We also offer special feature of supplying these materials with your training center LOGO and Address printed on the respective material to bring that personalized touch.