Display Abacus
5 Rod Display Abacus
We are engaged in manufacturing and exporting a wide range of teacher abacus with colored beads, frames and in different weight and size combination.
A Master Abacus or A Teacher Abacus is a large sized Abacus similar to of a Student Abacus but can be used ways either i.e. vertically or horizontally on a table. Abacus Classes is a group of students meeting the Abacus Teacher at a regular interval for learning the techniques of Abacus Math for Fast and Accurate Mental Math. Abacus Teacher use various aids for teaching kids like Master Abacus, Teacher Abacus, Flash Cards, Fingering theory Abacus to train and teach them Abacus operations of Addition, Subtraction, Multiplications, Division etc.
A Master Abacus and Teacher Abacus is one of the main tools used by the Abacus Teachers to brain train Abacus Students for showing and displaying the Abacus Math methods in an Abacus Math Classroom Activity. Children learning Abacus find it easy and practical to understand the methods while the Abacus Teacher show them it on Master Abacus and Teacher Abacus.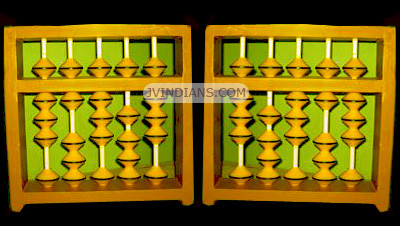 | Specification | Value |
| --- | --- |
| Weight | 1.4 Kg |
| Length | 330 mm |
| Height | 330 mm |
CODE: 5RST