Books
->

Calligraphy

->

Calligraphy Pen With 9 Holders
Calligraphy Pen and 9 Holders
Calligraphy pens come in a huge array of sizes, shapes, weights and prices.
Calligraphy Training to Children is considered to be the most creative form of harmonious, skilful and expressive writing. These calligraphers have immense talent and hence can give language even to abstract beauty. They make use of the finest paper, ink and brush to offer calligraphy paintings that are perfection of elegance and finesse.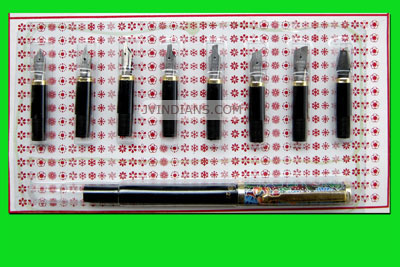 CODE: CPN1
We also offer special feature of supplying these materials with your training center LOGO and Address printed on the respective material to bring that personalized touch.